art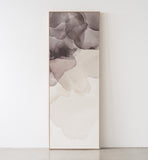 Bloom Framed Art - Plum
Fine grade wallcovering, pearlescent finish within a tray frame
Can be hung with detail at top or bottom
68 x 190cm
Please note: this item is delicate and ships within New Zealand only.
Custom sizes are available on request.
Please
contact us
for a shipping estimate and to purchase.
Image credits:
'Originals' drop leaf dining table by Ercol from
Good Form
. Solo chair by Mattiazzi from
Simon James Design.
Parison pendant by Cheshire Architects at
Resident
. Vases/ceramics by
Rachel Carter Ceramics
. Dried flowers by
Markantonia
. Styling
Juliette Wanty
.